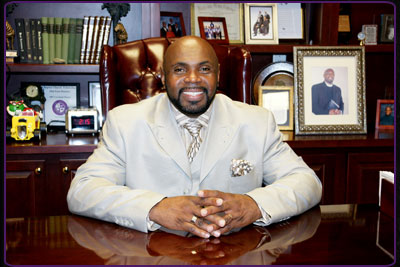 Pastor Patrick Wilson Sr.
Patrick Wilson was born and raised in Washington County, Georgia where he attended the public school system. He graduated from Washington County High School and continued his education at Valdosta State University where he received a Bachelor of Business Administration Degree with honors.
Pastor Wilson is the husband to Van Nessal Wilson of 21 years; and he is the father to Patrick Jr. and James Van Chauncey.
He is an Advisory Board Member at the Washington County Youth Detention Center; Past Vice-President of the P.T.A. at Thomas Jefferson Middle School; Past President of the Washington County Ministerial Association; founder of the Evangelistic Outreach Ministry located at Valdosta State University; and Past Director of Pastors for the Georgia State Full Gospel Baptist Church Fellowship. He is very active in the community working with various organizations to improve the quality of life for all people. Pastor Wilson is also a business owner and Resource Church Consultant.
He started his pastoral duties in February of 1994. He founded the New Birth Christian Ministries in Tennille, Georgia with only four (4) adult members along with their children. Today he Pastors approximately 500 members. New Birth is a state of the art church with a boardroom, bookstore, office suite, recreational facility and owner of an apartment complex.
Pastor Wilson's vision is to motivate people to reach their fullest potential as sons, citizens and ambassadors of the Most High God. He has coined a saying in New Birth that states, "It Shall Be Done!" Pastor Wilson is a Trendsetter, a Trailblazer, a Motivator and a Mighty Man of God. His foundational scripture is found in Isaiah 43:19 that states "…Behold, I Will Do a New Thing."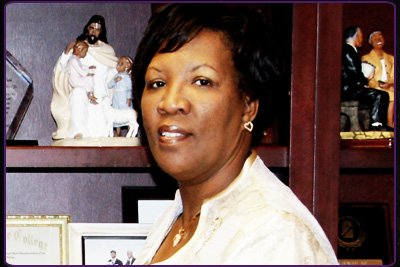 Co-Pastor Van Nessal Wilson
Sister Van Nessal Wilson was born in the small town of Meigs, Georgia. She graduated from the Thomas County School System in Thomasville, Georgia. She later attended Valdosta State College where she received her Bachelor of Science degree. It is at Valdosta State where she met and married her husband Elder Patrick Wilson, Sr., pastor of the New Birth Christian Ministries of Tennille, Georgia. They have two sons, Nick, Jr. and Chauncey.
She works diligently beside her husband at New Birth where she works with the Women's Ministry, the Children's Ministry and the Music Ministry. And, of course, she works any place else her husband deems necessary.
She has been employed by the local school system for eleven year. She is currently employed by the Washington County Board of Education as the District Transition Coach.